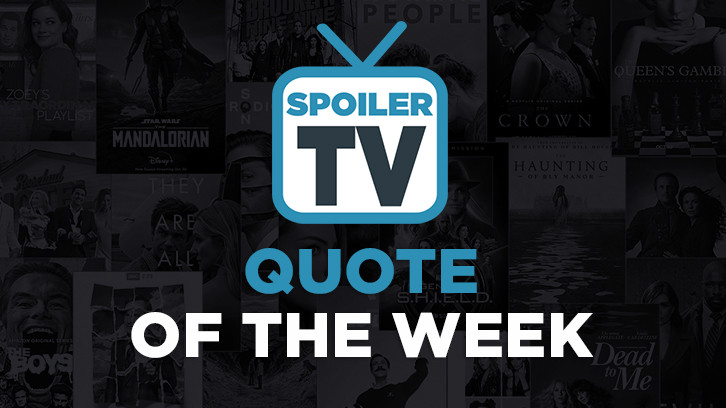 A weekly feature highlighting the best quotes on TV as picked by the Spoiler TV team. We'd love to hear your picks too so please sound off in the comments below.
The 100
-
1. Murphy: "And they call me the Cockroach." (Marko)
Agents of SHIELD
-
1. Phil Coulson: "Here's to us! Who's like us? Damn few!" (Donna)
The Americans
-
1. Philip: "Wait. This came in while you were out. Father Andre." Elizabeth: "I can't. You meet him. Maybe he'll give you absolution." (DarkUFO)
2. Philip: "You've always done exactly what they've told us to do. I was trying to get you to think. Yes. To ask questions. To be a human being about us." Elizabeth: "You don't think I'm a human being?!" Philip: "That's not what I'm saying. I would do anything for you. I always did. I just did. But not anymore. You do whatever you want, but please, some of these things? We believed in something so big. They tell us what to do and we do it, I get it, that's how it works. But we do it, not them, so it's on us. All of it." (DarkUFO)
3. Elizabeth: "I won't do it." Claudia: "I can't make you do anything. But, Elizabeth, keep quiet. After all these years serving your country, don't throw it all away now." (DarkUFO)
Fear the Walking Dead
-
1. John: "Soup is the blanket of food." Naomi: "What?" John: "Yeah, it's been a while since I had company." (DarkUFO)
2. Naomi: "How'd you know I was a nurse?" John: "Well, I don't know of too many people who can stick a needle in their side." (DarkUFO)
3. Naomi: "Why'd you move up here?" John: "Those people thought I was a hero." Naomi: "Doesn't matter how many people say it's not your fault, the only thing that matters is if you believe it." (DarkUFO)
Grey's Anatomy
-
1. Meredith: "Andrew!" Andrew: "What?" Meredith: "That is not what I meant." Andrew: "It's not?" Meredith: "No, this is not a seduction." Andrew: "Oh God, I'm so sorry. Am I fired?" Meredith: "No, I'm flattered." (Sam)
2. Zola: "I don't think life is like candy. You can't be too greedy for it and you can't fill up on it." (Marko)
Legion
-
1. Faruk: "Remove your mask. Show them your face. You could be beautiful." (Milo)
2. David: "I'm not like you, I don't hide behind masks." (Milo)
3. Faruk: "Everyone hides behind a mask." (Milo)
Once Upon a Time
-
1. Rumple: "You don't do the right thing for a reward. You do it because it's right." (Prpleight)
Timeless
-
1. Ms. Tubman: "My only desire is to live free. The rest will work itself out." ~Christine Horn was wonderful as Ms. Tubman.
2. Rufus to the Southern lady of the house: "I quit, by the way!"
3. Emma: "Screw bloodlines and all of that family, birthright monarchy cr**! What are we, British?" ~I love Emma even though she's Rittenhouse.
Westworld
-
1. Lawrence's Daughter/Ford: "You still don't understand the real game we're playing here - if you're looking forward, you're looking in the wrong direction." (Milo)